About Us

---
Meeting:
The November meeting of the Bee Club is Wednesday, November 7.
Farm City Banquet is Thursday, November 1 6 or 6:30 at Boone United Methodist Church.  All are invited tickets are $10 and can be purchased at the Ag Extension Service
Last Bee Meeting and Covered Dish Wednesday, November 7 at 6:15.
Please plan to attend and bring a delicious covered dish.  Family members are welcome.  The club provides drinks and paper products.  You provide the good stuff.  New officers will be elected to serve the 2019 year and Joe will give a recap of the year and what's ahead.   If you have been contacted by Ben Jones and asked to serve , I hope you said Of Course, I'd be Glad to!!!   
Hope to see you.
Mary
Remember this is YOUR club and your participation is needed and appreciated.  Think how you can be involved. It is YOUR club. If you don't help with running it, then who will?  Don't just sit and watch; try to make a difference.  If only a few people do all the work, they will eventually get tired; if you want the club to continue and to thrive, please consider giving just a little time and effort to the club to keep it viable.
Bring items to share on the resource table – blooming plants, plants for sale that benefit pollinators, articles, pictures.  Your sharing making the meeting more interesting.  Think about how you can participate.
Bring items for door prizes – it can be as simple as a basil plant or flower bulb or a hive tool.
Please make note of it and use it in the future for all correspondence.
Remember this is YOUR club and your participation is needed and appreciated.  Think how you can be involved. It is YOUR club. If you don't help with running it, then who will?  Don't just sit and watch; try to make a difference.  If only a few people do all the work, they will eventually get tired; if you want the club to continue and to thrive, please consider giving just a little time and effort to the club to keep it viable.
Thank you!
General Bee Education Information
State News:
Summer meeting of NCSBA
July 19 – 21
Flat Rock NC
See below to order bees:
From HS Green
Hidden Happiness Bee Farm
http://www.hiddenhappinessbeefarms.com/
Selling 5 frame nucs for $150.00 this year delivering will be around 3rd week in April. Coming this spring:  Honey Bee Corn Game
H.S.
From James Wilkes:
Enter information below to be added to our waiting list. We expect to have nucs available for pick up between 
April 16 and May 14
 from our farm in Creston, NC or a mutually agreeable location.  Exact dates and times to be determined. Cost is $175 per nuc and will be in an EZ Nuc box. No guarantee of availability, but we will communicate as soon as possible as things progress. Contact Sullivan Wilkes, 
sulli.wilkes@gmail.com
 or 
828-434-0066
 with questions.
Extractor:  The club has an extractor/hot knife/double strainer for check out.
Specifics:
Current club membership
3 day max
Return clean
Let me know if you have any questions.
Mary
Upcoming event:
Packages and NUCS for sale:
Valle Crucis Bee Company
3lb bee packages with a laying queen for sale  $125.  Arrival around the
second week in May
.  NUCS also available contact:   Angie:  
828-773-0246
mailto:adbm615@gmail.com
Membership drive continues $25 dues for local and state membership.
50/50 raffle – bring cash
Raffle:  Commemorative mini hive provided by HS Green proceeds to benefit club
Sale table:  bring bee related items, plants and other items to sale
With the up and down of the weather bees can easily starve this time of year.  Attend to your hives and feed pollen patties or dry sugar if hives are light.  Resist reversing hive bodies until the temperature is consistently in the mid 50s.  If you feed sugar water, 1:1 ratio (sugar to water) is for spring feedings. Again, be mindful of the temperature as moisture in a hive can be detrimental to bees.
Events:
Watauga County Seed Library opened 

April 1
, Watauga County Library
3:00
. The Beekeepers will have a table of information.  Stop by and show your support. To volunteer email:  
mwilliams155@gmail.com
Bee news:
The Rusty Patch Bumble Bee (Bombus affinis) on Endangered Species List
Article:  Mistakes of new beekeepers
Watauga Beekepers meet on the first
Tuesday
of each month, from March through November, in the downstairs meeting room of the Agricultural Extension Center. Everyone is welcome. For more information send an email to Mary Williams at 
mwilliams155@gmail.com
As you inventory your equipment at the end of the season, be aware that we have two people in the club who make and sell equipment for beekeepers. They make excellent equipment, are active beekeepers and live in the area. Contact them to learn more about their products.
Valle Crucis Bee Company
Hidden Happiness Bee Farm
---
Beekeepers Support All Pollinators

For Pollinator Week it has come to our attention that PETA has launched a campaign to Save Our Bees, recommending ways that individuals can help protect pollinators. While we fully support their effort to encourage planting more bee forage, we were disappointed to learn that they advocate purchasing a honey substitute and avoiding any beeswax products. In their plea against honey, they have some incorrect facts—writing that a single bee may visit 10,000 flowers in a day and that beekeepers kill the hive after stealing all the honey.

It's somewhat ironic that the honey alternative they promote is made from organic apples, as honey bees are most certainly used to pollinate the apple orchards. They also don't seem to understand that most beeswax used in cosmetic products like lip balm comes from wax cappings, a byproduct of honey extraction.

While we certainly believe in protecting and promoting all pollinators during Pollinator week, we are distressed that beekeepers are misportrayed in their campaign. Beekeepers are deeply concerned with the welfare of their charges, going to great lengths to keep their colonies healthy in the face of a fragmented landscape.
Asian Hornets: Lead Me
to the Nest

Asian hornets attack honey bee colonies in much of Europe. The United Kingdom doesn't want this hungry predator feasting on their hives. They've set up an effective eradication program, successfully destroying the unwanted invaders on two separate incursions.

New technology will make finding the nests of these voracious hornets easier. Research shows that electronic radio tags can be used to track invasive Asian hornets and stop them colonizing the UK and killing honey bees.
Scientists from the University of Exeter attached tiny tags to Asian hornets, then used a tracking device to follow them to their nests; the first time this has been achieved. They tested the technique in southern France and Jersey – where Asian hornets are well established – and the tags led researchers to five previously undiscovered nests.

"Our new method of tracking offers a really important new tool to tackle the spread of this invader, providing an efficient means of finding hornets' nests in urban, rural and wooded environments," said lead researcher Dr. Peter Kennedy, of the Environment and Sustainability Institute on the University of Exeter's Penryn Campus in Cornwall. The technique demonstrated in their study could help protect Britain's "beleaguered pollinator populations".

"It is vital to find the nests early in the season to prevent the hornet spreading, as later in the year hundreds of new queens emerge and disperse from each nest, each with the potential to make new nests," said Professor Juliet Osborne, a co-author on the study. The work was funded as part of Defra's efforts to prepare for future outbreaks of the Asian hornet in the UK.

Nicola Spence, Defra Deputy Director for Plant and Bee Health, said: "This work is key for ensuring a rapid response to Asian hornets when sightings are confirmed, and in future bee inspectors will be able to use this technique to take swift action."

"In France, the Asian hornet is unlikely to be eliminated, so efforts are now focused more on limiting their impact," said Dr. Denis Thiéry from INRA Bordeaux-Aquitaine in France, who collaborated on this work.

Mr Willie Peggie, Director of The States of Jersey Department of the Environment, where the technique was also tested, said: "We are pleased to be investigating efficient methods of tracking Asian hornets to their nests, as we're concerned about their impact on our wild insect pollinators, as well as their effect on local honey production."

The researchers used the smallest radio tags available – made by UK firm Biotrack Ltd – and attached them to hornets with sewing thread. Hornets were able to carry them as long as the tag weighed less than 80% of the insect's weight.

The British Beekeepers Association are also pleased about the development of a reliable technique for tracking this invasive predator, and stated: "The BBKA are greatly concerned about the possible incursion by the Asian Hornet because of the devastation likely to be caused to honey bees and other pollination insects."

Adult Asian hornets "hawk" at beehives, meaning that they hover outside to grab bees, before dismembering them and taking them back to their nest to feed to larvae.

The first Asian hornet discovered in Britain was in Gloucestershire in 2016, when a nest was found and destroyed. Another nest was destroyed in Woolacombe, Devon, last year. In April this year, a single hornet was found in Lancashire.

Asian hornets are smaller than native European hornets, have a largely dark brown or black body and yellow-tipped legs, a distinctive orange-yellow stripe near the end of their abdomen, and often a thin orange-yellow line just behind the "waist". Their face is orange, and the back of the head is black, unlike the European hornet in which both the face and back of the head are yellow.

Any suspected sighting of an Asian hornet should be reported, ideally with a photo, via email to alertnonnative@ceh.ac.uk or by using the Asian Hornet Watch app.

The paper, published in the journal Communications Biology, is entitled: "Searching for nests of the invasive Asian hornet (Vespa velutina) using radio-telemetry." http://dx.doi.org/10.1038/s42003-018-0092-9 
Trash the Bug Spray in your Garden

A bumble bee in Europe. Credit: University of Sussex

Home owners love pristine gardens. They fight aphids and other plant pests with copious amounts of chemical concoctions. A quick spritz here, a backpack sprayer there. What consequences do such home owner treatments have? Quite a lot, it turns out. Bees living in suburban habitats are still exposed to significant levels of pesticides despite the EU ban on the use of neonicotinoid pesticides on flowering crops, new research from University of Sussex scientists shows.

While the introduction of new EU restrictions on the use of neonicotinoid chemicals five years ago has reduced exposure of bees living in farmland, the study found that overall more than half of all pollen and nectar samples collected from bee nests in Sussex, Hertfordshire and Scotland between 2013 and 2015 were contaminated.

The study is the first of its kind to highlight the risk to bees in urban areas posed by garden use of pesticides.

The scientists at the University of Sussex urge gardeners and home owners to ditch their bug sprays immediately. Let natural predators such as ladybirds or lacewings handle pests; or use physical methods such as hand-removal of pests, netting or sticky traps for control.

Dr. Beth Nicholls, Postdoctoral Research Fellow in Evolution, Behaviour and Environment at the University of Sussex and the study's lead author, said: "Our findings suggest that the EU's recent decision to extend the neonicotinoid moratorium to include all field crops is likely to have a positive effect on bees, relieving some of the stress on our already struggling pollinator populations. However, given that bees in suburban gardens appear to remain at risk post-moratorium, further work is needed to understand the sources of neonicotinoid exposure in these areas and to find ways to reduce it. Our study indicates that limiting the public sale and use of neonicotinoid-based bug sprays, which are currently unaffected by the moratorium, is needed if we are to protect bee populations living in and around our towns and cities."

In 2013 the European Commission instated an EU-wide moratorium on the use of three types of neonicotinoid (thiamethoxam, clothianidin and imidacloprid) on bee-attractive flowering crops such as oilseed rape. The ban will be expanded to include all field crops from 2019.

The study, with colleagues at Stirling University and Rothamsted Research, found that neonicotinoid exposure for rural bumblebees declined after the ban's implementation in 2015 but the risk to bumblebees in suburban gardens remained largely the same.

As well as bug sprays, contaminated ornamental plants sold in garden centers play a key role in spreading neonicotinoids through suburban areas. A previous study by the University of Sussex revealed that 70% of bee-friendly plants sold at a range of garden centers and plant nurseries had traces of neonicotinoids.

For nectar samples collected from rural bumblebee colonies, concentrations of the pesticide thiacloprid, an active ingredient in many bug sprays sold in garden centers and not included in the EU restriction, significantly increased between 2013 and 2015, replacing the banned chemicals.

Researchers were also concerned to find bee food was often contaminated with imidacloprid, a neonicotinoid which is very rarely used against crop pests any more. Its continued presence raises concerns about the persistence of chemicals in agro-environments even after their application has stopped. The researchers believe that the continued contamination could also be due to pet flea treatments, which still often contain this chemical. The long-term treatments that keep cats and dogs tick free for six weeks often contain neonics as the active ingredient.

The study found many bee populations are still subject to pesticide levels that previous studies have shown could lead to slower colony growth and the production of fewer new queens, as well as detrimental impacts on foraging and navigation, immunity and worker mortality.

Professor Dave Goulson, professor of biology at the University of Sussex, said: "Who knows what Brexit will mean for the future of this country but one thing it desperately needs to include is the continuation of the EU's ban on neonicotinoids. Gardeners can do their bit; for there is no need for pesticides in gardens. I grow lots of fruits, vegetables and flowers in my garden without chemicals – there is just no need."
Temporary Break for USDA Disease Diagnostic Service
Due to a staffing crisis, the USDA-ARS Bee Disease Diagnostic Service in Beltsville, MD will be on hiatus, effective immediately. The University of Maryland Bee Lab has graciously supported Mr. Samuel Abban as he leads this 100-year old program, but Samuel is now needed fulltime for a critical University project. Every effort is being made to finalize the hiring of Samuel as a USDA employee so that he can continue this program. Please do not submit new samples until further notice. Samples in hand will be held in cold storage pending our ability to staff this program.  In the meantime, the Bee Informed Partnership offers a paid service for analyzing colony loss samples, https://beeinformed.org/programs/emergency-response-kits-2/. We are extremely sorry for this disruption and look forward to continuing this program as part of USDA-ARS efforts to help beekeepers. Please contact us regarding urgent needs.  Jay Evans, Research Leader, USDA-ARS Bee Research Laboratory, Beltsville, MD 20705  jay.evans@ars.usda.gov, 301-504-5143.
FDA alerts consumers of nationwide voluntary recall of EpiPen and EpiPen Jr
FDA News Release
The U.S. Food and Drug Administration is alerting consumers to Meridian Medical Technologies' voluntary recall
of 13 lots of Mylan's EpiPen and EpiPen Jr (epinephrine injection) Auto-Injector products used for emergency treatment of severe allergic reactions. This recall is due to the potential that these devices may contain a defective part that may result in the devices' failure to activate. The recalled product was manufactured by Meridian Medical Technologies and distributed by Mylan Specialty.
While the number of reported failures is small, EpiPen products that potentially contain a defective part are being recalled because of the potential for life-threatening risk if a severe allergic reaction goes untreated. Consumers should keep and use their current EpiPens if needed until they get a replacement. Consumers should contact Mylan at 800-796-9526 or customer.service@mylan.com with any questions.
As stated on the product label, consumers should always seek emergency medical help right away after using their EpiPens, particularly if the device did not activate.
At this time, the 13 lots identified – distributed between Dec. 17, 2015, and July 1, 2016 – are the only EpiPen lots impacted by the U.S. recall. Consumers who have EpiPens from lots that are not included in this recall, do not need to replace their EpiPen prior to its expiration date.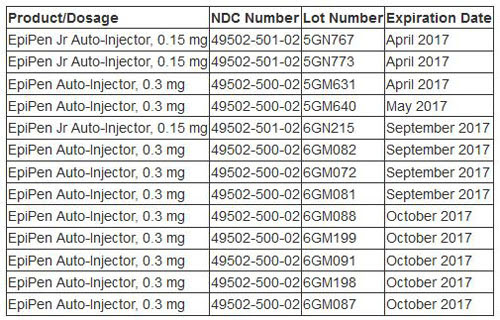 The FDA asks health care professionals and consumers to report any adverse reactions or device malfunctions to the FDA's MedWatch program, by:
The FDA, an agency within the U.S. Department of Health and Human Services, protects the public health by assuring the safety, effectiveness, and security of human and veterinary drugs, vaccines and other biological products for human use, and medical devices. The agency also is responsible for the safety and security of our nation's food supply, cosmetics, dietary supplements, products that give off electronic radiation, and for regulating tobacco products.

At Mealtime, Honey Bees Prefer
Country Blossoms to City Blooms
Urban beekeeping could suffer as a result, study authors say
COLUMBUS, Ohio – Hungry honey bees appear to favor flowers in agricultural areas over those in neighboring urban areas.The discovery has implications for urban beekeepers and challenges assumptions that farmland and honey bees are incompatible, said authors of a new study from The Ohio State University.
The team positioned honey bee colonies in an apiary in a central Ohio cemetery smack in the middle of where urban residential development transitions into farmland. They left the colonies to forage for nectar and pollen wherever they preferred.
The bees, studied from late summer to early fall, overwhelmingly went for the agricultural offerings instead of the assorted flowering plants in and around the urban neighborhoods nearby, said lead author Douglas Sponsler, who was a graduate student in entomology at Ohio State when the research was conducted in 2014. The study appears in the Journal of Urban Ecology.
Throughout the study, the honey bees' haul always favored plants from the agricultural area, and hit a high of 96 percent of the pollen collected at one point.
"Honey bees didn't seem to care that much what the floral diversity was. What they wanted was large patches of their favorite stuff," said Sponsler, who now works at Penn State University.
Goldenrod was particularly popular, the researchers found. The bees' agricultural foraging preference was especially pronounced at the end of the season, as the colonies prepared to overwinter.
While farm fields themselves aren't attractive to the bees, the countryside features wide swaths of unmowed wild plants (also known as weeds) along roadsides and in field margins, Sponsler said.
Senior author Reed Johnson, an assistant professor of entomology at Ohio State, said the discoveries made in this study help explain the ongoing hardships of urban beekeepers, who are growing in number in Ohio and elsewhere.
"When the bees have a choice, they go to the farmland. We've had trouble keeping our urban colonies alive, so this makes a lot of sense to us," Johnson said.
"There's this popular perception that urban places are better for bees because of the diversity of plants. This is showing that, at least in Ohio, the agricultural areas are actually superior and that's despite the pesticide use that's out there," he said.
"Apparently, farmland isn't desolate at all – at least not for honey bees."
Uncovering where the bees had been and what exactly captured their attention was a two-part process.
First, researchers videotaped then analyzed the tell-tale dance patterns of bees returning to the three study colonies. Translated by scientists, these dance moves explain what direction the foraging bee has been in relation to the hive and how far in that direction.
"These things can be pretty easily decoded by the human observer, thankfully. You can map the locations that are being referred to in the dance," Sponsler said.
The second part of the analysis – pollen identification – confirmed the dance-derived findings. When the honeybees came back to the cemetery, they flew through a screen that allowed their bodies in, but scraped the pollen off their hind legs and into a collection chamber.
Sponsler and his colleagues then sorted through the bees' collection, separating the grains of pollen by color and shape and then cross-referencing to determine what exactly the bees were foraging.
They examined pollen from five sampling dates. Agricultural foraging outweighed urban foraging in every sample and hit a high of 96 percent on the Sept. 19 collection date and a low of 62 percent of the honey bees' haul on Sept. 4.
For urban beekeepers and others interested in a thriving honey bee population, it could be prudent to think about supplementing the bees' diets at summer's end, the researchers said.
Honey bee populations could also become more stable in urban areas with more careful landscaping choices in and around cities, the researchers said.
"The focus is how can we make urban spaces better for bees so we can attract them back into the city?" Johnson said.
He suggested that planting certain trees could serve the honey bee population well. Linden trees, for instance, are "phenomenal" nectar producers, Johnson said.
Sponsler said there's plenty of room to improve urban plant diversity and keep honey bees satiated there as well as in the country.
"There's no reason why our urban landscapes cannot be full of flowers. It's just that we've inherited a certain preference toward things that look like golf courses rather than things that look like prairies."
---
Honey Nut Cheerios' BuzzBee
Missing From Iconic Cereal Box
for Important Cause
Brand calls to plant 100 million wildflower seeds,
support pollinator conservation
MINNEAPOLIS, Minnesota – Shoppers might notice something unusual about the boxes of Honey Nut Cheerios on grocery store shelves this spring. BuzzBee, the brand's iconic spokesbee, is missing, and there's a very important reason why. Buzz disappeared from boxes because there's something serious going on with the world's pollinators.Pollinators are critical to our environment. More than two thirds of the crops used to feed people, accounting for 90 percent of the world's nutrition, are pollinated by bees.1 With deteriorating colony health, pollinators everywhere have been disappearing by the millions.¹
Pollinators need wildflower pollen and nectar to stay happy and healthy. Planting wildflowers is recommended by conservationists as one of the best ways to support pollinators. It's a fun, simple way to help. Honey Nut Cheerios wants to create a more bee-friendly world by encouraging consumers to plant over 100 million wildflowers this year.
To join #BringBackTheBees, families are invited to order and plant free wildflower seeds from Vesey's Seeds by visiting www.cheerios.com/bringbackthebees.
Bees have experienced an unprecedented scale of habitat loss, with more than 9 million acres of grass and prairie land converted to crop land since 2008.2 Although, BuzzBee and his honey bee friends may not be in danger of extinction like some other pollinators, in the interest of protecting our food supply, General Mills is committed to helping all pollinators thrive through the planting of these habitats
"As a General Mills cereal built around nutrition, helping pollinators get the key nutrition they need through fun, family-friendly activities like planting wildflowers is a natural fit," said Susanne Prucha, director of marketing for Cheerios. "Our commitment to increasing the habitat for pollinators is one way we are continuously striving to be a company that not only makes products people love, but a company that pursues creative solutions to make our world a better place for all families."
Approximately 30 percent of all ingredients in General Mills' products rely on pollination. Since 2011, General Mills has invested more than $4 million with the Xerces Society – the world's oldest and largest pollinator conservation group – to support pollinator and biodiversity efforts. Large-scale habitat projects have already been planted or are underway with farms supplying ingredients to Cheerios, Muir Glen, Cascadian Farm, LÄRABAR and Annie's.
Last spring, Honey Nut Cheerios announced that by the end of 2020, farms that grow oats for Cheerios will house approximately 3,300 total acres of dedicated pollinator habitat on 60,000 acres of land. Previous pollinator habitat plantings on General Mills' supplier farms indicate that each pollinator habitat is expected to double the amount of bees in the area.
Throughout the spring, Honey Nut Cheerios will continue its efforts to help conserve pollinator populations in the U.S. Visit www.cheerios.com/bringbackthebees for more information on how to help #BringBackTheBees.
1 http://www.greenpeace.org/usa/sustainable-agriculture/save-the-bees/
2 USDA Farm Service Agency 
Neonicotinoid Pesticides Cause
Harm to Honey Bees
Mainz researchers discover new mechanism associated with the worldwide decline of bee populations
Johannes Gutenberg Universitaet Mainz
One possible cause of the alarming bee mortality we are witnessing is the use of the very active systemic insecticides called neonicotinoids. A previously unknown and harmful effect of neonicotinoids has been identified by researchers at the Mainz University Medical Center and Goethe University Frankfurt. They discovered that neonicotinoids in low and field-relevant concentrations reduce the concentration of acetylcholine in the royal jelly/larval food secreted by nurse bees. This signaling molecule is relevant for the development of the honey bee larvae. At higher doses, neonicotinoids also damage the so-called microchannels of the royal jelly gland in which acetylcholine is produced. The results of this research have been recently published in the eminent scientific journal PloS ONE.
"As early as 2013, the European Food Safety Authority published a report concluding that the neonicotinoid class of insecticides represented a risk to bees," said Professor Ignatz Wessler of the Institute of Pathology at the University Medical Center of Johannes Gutenberg University Mainz (JGU). "The undesirable effect of neonicotinoids now discovered is a further indication that these insecticides represent a clear hazard to bee populations and this is a factor that needs to be taken into account in the forthcoming reassessment of the environmental risks of this substance class." Working in collaboration with Professor Bernd Grünewald of the Bee Research Institute at Goethe University Frankfurt, Professor Ignatz Wessler and his team uncovered this previously unknown damaging effect of neonicotinoids that impairs the development of honey bee larvae.
Wessler and Grünewald were able to directly demonstrate that neonicotinoids reduce the acetylcholine content of the larval food produced by nurse bees. Acetylcholine is a signaling molecule produced in the microchannels of the royal jelly gland of nurse bees. Comparable to neonicotinoids, it stimulates the nicotinic acetylcholine receptors that are also present in this gland.
"In lab tests we artificially removed acetylcholine from the larval food and the result was that bee larvae fed with this died earlier than bee larvae that received food containing acetylcholine," explained Wessler. In order to examine the effect of neonicotinoids on the acetylcholine content in the jelly in more detail, bee colonies were exposed to various concentrations of neonicotinoids in flight tunnels (clothianidin: 1, 10 and 100 ?g/kg glucose solution; thiacloprid 200 and 8800 ?g/kg). "This exposure led to a reduction in the acetylcholine content of the jelly. Thus we were able to demonstrate that the field-relevant dose of the neonicotinoid agent thiacloprid (200 ?g/kg) significantly reduces acetylcholine content by 50 percent. On exposure to higher doses, we were even able to verify that acetylcholine content can be reduced by 75 percent. Exposure of the bees with the higher doses results in serious damage to the microchannels and secretory cells of the jelly gland," emphasized Professor Ignatz Wessler. "Our research results thus confirm that the neonicotinoids can jeopardize the normal development of honey bee larvae."
The EU came to a similar conclusion back in December 2013 and imposed temporary restrictions on the use of three neonicotinoids, i.e., clothianidin, imidacloprid, and thiamethoxam. It had already been reported in several scientific publications that high but not lethal doses of various neonicotinoids could be associated with the falls in the populations of wild bees, bumblebees, and queen bees. Also reported were abnormalities in breeding activity and impaired flight orientation in the case of honeybees. However, at the time there were critics of these reports who pointed out that, among other things, the researchers had used high, non-field-relevant doses of neonicotinoids and had carried out their experiments under artificial laboratory conditions. Moreover, the proponents of the use of neonicotinoids cited other possible causes of bee mortality, for example, the proliferation of the varroa mite and other pathogens.

Great Practical Beekeeping
Information for New Beekeepers
(Courtesy of Joli Winer, Editor, May 2016 The Bee Buzzer, Newsletter
of the Northeastern Kansas Beekeepers' Association)
Tips for May
Check for ticks, they love beekeepers
Wear as much protective clothing as makes you comfortable when working your hives. Work hives with slow, smooth movements. Jerky movements agitate the bees.
Use your smoker each time you check your bees.
Organize your bee tools in a toolbox so that you can always find them.
The best time to work bees is during the middle of the day when the field bees are collecting nectar.
Work each hive from the side or the back, out of the bee flight path.
Inspect hives by removing an outside frame first. Lift straight up to avoid damaging bees on the frame
When supering your hives add more than one super at a time if you have drawn comb. If you have new foundation add only one super at a time and start with 10 frames. Put your second super on after the first one is almost filled.
Use queen excluders to prevent brood in your honey supers and as a deterrent to wax moths.
Double check medication dates – safety matters. Don't misuse any chemicals in the hive. Follow all time guidelines. Absolutely never medicate hives with supers on. It is illegal.
Keep the grass mowed in front of your hives – it makes it easier for the bees to land. Old carpet scraps, roof shingles or weed barriers can be used to keep grass under control.
Keep supers on until the honey is capped, unripe honey will ferment.
Do not feed sugar syrup during a honey flow since the bees will store the syrup in your supers rather than your honey.
Don't get excited on hot humid days if the bees are hanging outside the hive. They are trying to relieve the congestion in the hive to cool it off inside. Earlier in the year this is an indication of swarming, but as hotter summer temperatures return it is natural, so don't worry.
Keep up with your record-keeping so next year you'll know which hives produced the best for you.
Swarm Call Questions
Here are some questions to ask if you get a call wanting you to come get a swarm:
Have you called someone else?
How big is it?
How high is it?
Do you have a ladder?
What have you sprayed them with?
How long has it been there?
Is it on your property?
What is your contact number?
Do you have pets that might bother me?
Supering
Just before putting on your supers you'll want to check your hives to make sure that you have a laying queen and that everything looks ok. You should have both hive bodies mostly filled with brood and some honey and pollen. Avoid opening up the hive to look at the brood area unless you suspect a management problem.
Weak colonies should be combined with stronger colonies or requeened.
How do you know if the honeyflow is "on"?
Fresh white wax is on the edges of drawn comb or top bars.
Wax foundation is quickly drawn out
Bees are fanning at the entrance
Bees are extremely active at the entrance – they are coming, and going like crazy
You can smell it – the odor in the apiary is incredible – it smells sweet, like honey
Bees are docile and easy to work
If you have supers with drawn comb put on more than one at a time, this encourages the bees to bring in more honey and gives them more room to let the honey dehumidify. However, if you put on too many at a time the bees will "chimney" or just go up the middle and fill out only the center combs. You can encourage them to fill out the whole super by taking the full center frames and exchanging them for the outside frames – move the outside frames in the inside frames out – voila!
Since bees are hoarders, the more space you give them, the more bees will go out to collect nectar.
If you are using supers with new foundation then just put on one at a time and keep 10 frames in the supers. When the super is almost full move your outside frames inside and add your next super.
Make sure to mark any comb honey supers or frames so you don't extract them. Best to paint these supers a different color or paint a stripe on each side.
Move your full supers to the top and your newer supers lower (just above the queen excluder).
Keep supers on the hive until they are capped with beeswax (have a layer of beeswax covering the honey).
This group is primarily for those living in Watauga and the surrounding counties who are interested in  beekeeping.  However, anyone who is interested in bees is welcome! We are striving to be kinder, gentler beekeepers.
From our club president:
Our meetings have ended for this year. We will all take a break, read some bee books, and plan our strategy for next year. Our next meeting will be the first Tuesday in March. Check here for updated messages. Happy Winter!!
Check out the Holiday Honey recipes under the Recipes tab!!
We beekeepers do get together on a regular basis to enjoy speakers and demonstrations and to share our thoughts and concerns.  Meetings are typically held the first Tuesday evening of each month at 6:00 P.M.  Meetings are held in the downstairs conference room of the Watauga County Cooperative Extension Building located at 971 W King Street, Boone, NC 28607.  It is advised to park in the back, accessible from Poplar Hill Drive. Click on
Events

(above) for more information.
This group is primarily for those interested in keeping bees that live in Watauga and the surrounding counties, although we welcome anyone who is interested in bees. We will regularly post announcements as to meetings and events of interest to beekeepers, including fairs where we are exhibiting.  In addition, we aim to provide a place for discussion of up-to-date modern beekeeping practices and procedures using the art and skills learned in our day to day endeavors.  We hope to share our joy in working with bees, as well as our knowledge, with everyone interested in bees or beekeeping.
---
North Carolina Student Investigates
Honey Bee Disease Alert
Chemical Signal
Kaira Wagoner, University of North Carolina at Greensboro Biology Department's first doctoral student, has uncovered a chemical that could increase the odds of honey bee survival by helping them better combat the parasites within their hives.Wagoner has been working in Prof. Olav Rueppell's lab under his mentorship since August 2011, when she began working on her Ph.D. in the newly established environmental health science program. She received bachelor's degrees in biology and health science from Guilford College, and earned her master's degree in biology from UNCG in 2011.
After studying the effects of malaria-carrying mosquitos in her master's program, Wagoner said she wanted to study a "beneficial" insect for a change. She added that the "complex behaviors" of social insects such as honey bees added to their intrigue.
Wagoner's research focuses on Varroa destructor, also called the Varroa mite.
The mite is "probably the single most problematic" issue for honey bees, she said. Not only is the mite a "physical burden to the honey bee," it can also transmit viruses to the honey bee.
Varroa mites reproduce by infiltrating the special cells in a honey bee comb built for larvae. The mites lay their own young in the cell to feed off the baby honey bee. When that happens, the honey bee larvae give off a chemical signal that alerts the nurse honey bees to the presence of the mites and the disease that comes with it.
In response, the nurse bees uncap the wax covering from the cell to check for the mites, and if mites are present, they remove the larvae from the hive to prevent the spread of disease. That behavior is called "hygienic behavior," Wagoner said.
Her research suggests that the chemical could be used as a tool to breed hygienic honey bee colonies that show increased hygienic behavior and are therefore more disease resistant hives.
Wagoner said she believes that if that specific chemical is sprayed over the top layer of all the honey bee cells in a hive, the nurse honey bees will uncap and check all the cells, increasing their chances of catching and emptying cells with the Varroa mites. Cells without mites will be recapped and the larvae left to develop normally.
"We think it will help reduce the parasite load of the colony," Rueppell said.
And reducing the parasite load means reducing illness and death, leading to more honey bees to pollinate crops.
---
Urban Environments Boost Pathogen Pressure on Honey Bees
North Carolina State University
Researchers from North Carolina State University have found that urban environments increase pathogen abundance in honey bees (Apis mellifera) and reduce honey bee survival. The finding raises significant questions as urban areas continue to grow at the expense of rural environments, and urban beekeeping becomes more popular.
"We wanted to determine if the increased temperatures and impervious surface areas associated with urban environments have an effect on the number of pathogens bees are exposed to, and to the bees' immune responses," says Steve Frank, an associate professor of entomology at NC State and co-author of a paper on the work.
"We also wanted to look at both managed honey bee colonies and 'wild' ones, to see if that made a difference – and it did," says David Tarpy, a professor of entomology at NC State and corresponding author on the paper.
Working with volunteers, the researchers identified 15 feral colonies, living in trees or buildings without human management, and 24 colonies managed by beekeepers in urban, suburban, and rural areas within an hour's drive of Raleigh, N.C. The researchers collected worker bees from all of the colonies, and analyzed them to assess the bees' immune responses and their overall "pathogen pressure." Pathogen pressure accounts for both the types of pathogen species present and the abundance of those pathogens.
The research team found that colonies closer to urban areas and those managed by bee keepers had higher pathogen pressure.
"Overall, we found that the probability of worker [bee] survival in laboratory experiments declined three-fold in bees collected from urban environments, as compared to those collected in rural environments," Frank says.
However, the researchers also found that immune response was not affected by urbanization.
"Since immune response is the same across environments, we think the higher pathogen pressure in urban areas is due to increased rates of transmission," Tarpy says. "This might be because bee colonies have fewer feeding sites to choose from in urban areas, so they are interacting with more bees from other colonies. It may also be caused by higher temperatures in urban areas affecting pathogen viability or transmission somehow."
"Feral bees expressed some immune genes at nearly twice the levels of managed bees following an immune challenge," Frank says. The finding suggests that further study of feral bee colonies may give researchers insights that could improve honey bee management.
"Honey bees are important pollinators and play a significant role in our ecosystems and our economy," Tarpy says. "This work is really only a starting point. Now that we know what's happening, the next step is to begin work on understanding why it is happening and if the same negative effects of urbanization are hurting solitary, native bee species that are presumably more sensitive to their local environment."
---
Ten beekeeping crimes you should not commit
What are beekeeping crimes? A beekeeping crime is a skipped step, a missed opportunity, or an unfortunate assumption about either honey bees, beekeeping, or the environment we live in. They are crimes because they often result in the death of bees, the spread of disease, or unhappy neighbors. I've limited my list to ten, but you certainly know of others.
The order of these beekeeping crimes is unimportant, except for the first one.
---
1
Skipping the basics: Nearly every beekeeper I know started by reading a book about beekeeping. It's fine to read a book about beekeeping, but only after you've read about honey bees themselves—how they work, what they do, how they're built—in other words, basic bee biology.
It's hard to manage something if you don't understand the something you are trying to manage. Beekeeping is the art of managing honey bees, so all the beekeeping books make a heck of a lot more sense after you know something about bees. Trust me on this.
My favorites include The Buzz about Bees: Biology of a Superorganism by Jürgen Tautz and Honey-Maker: How the Honey Bee Worker Does What She Does by Rosanna Mattingly. If you realize that beekeeping practices are designed around honey bee biology, you will realize how much sense it makes to start at the beginning.
---
2
Not feeding soon enough or long enough: New beekeepers do not realize how disadvantaged a package of bees really is. You dump them in an empty hive and expect them to perform, but they have no home set up, they have no comb for a nursery or for food stores, and they have no food. To build comb and collect what they need—and to raise new generations of offspring—requires a ton of energy. As a beekeeper, that's where your job begins. Feed those bees.
Folks argue that they don't want to feed because they want "natural bees." But in fact, nothing about that bunch of bees is natural. Those bees are most probably unrelated to each other, they never met their queen, they are far from home, and the move wasn't their idea—not the time, not the place, not the method. You've done everything possible to make it hard for them, so the least you can do is give them a meal.
Natural beekeeping is something you grow into with time and experience. Natural bees don't come out of package that was just shipped halfway across the country on the back of a truck. With a brand new colony in a brand new hive, do not be surprised if you have to feed all summer.
---
3
Ignoring Varroa mites: If you ignore Varroa mites or pretend they don't exist, you are offing your bees. In North America, Varroa remains the number one problem that honey bees face. It is easy to blame other things for colony loss: neonics, Nosema, CCD, and yellowjackets are common fall guys when, in fact, it is most often Varroa mites that destroy the colony.
Here again, people argue against treatments because they want "treatment-free" bees. I applaud those dedicated bee breeders who are working toward treatment-free bees. But what they are doing is hard, expensive, exacting, and time-consuming work based on sound scientific principles and lots of experience. Ordering bees from a large producers and letting them die every year from Varroasis is not treatment-free beekeeping. In fact, it's not beekeeping at all—it's the negligent and unconscionable act of a neophyte.
Furthermore, those who practice the "live-and-let-die" method are hurting those that are trying to breed true treatment-free stock. That is because a Varroa infested colony that collapses is a "mite bomb" or a "mite factory" that releases scores of Varroa into the environment for other beekeepers to deal with. The mites are transmitted by robbers or absconding bees and can infect other colonies for miles around. Even the carefully-bred treatment-free bees can fail in the face of a massive influx of mites from a careless beekeeper.
If you want to segue into treatment-free beekeeping, you can. But you need knowledge, resources, and a plan. You can't just install a package from California and watch it die.
---
4
Opening a hive without a plan: Each time you open a hive you are committing a home invasion; you are going in there and screwing things up. Granted, beekeepers need to manage, and to manage you need to know what's going on. But excessive muddling through the hive is counterproductive. Temperature readings in hives skyrocket after beekeeper intrusion, and much energy is spent trying to get their lives back in order.
My rule of thumb is simple: have a plan. Know exactly why you are opening the hive and what you hope to learn. Once you have discovered what you need to know, get out.
The most frequent objection to this advice is, "But new beekeepers have to open the hive to learn. If they never open it, they never learn." So? Why can't learning be a plan?
If your new beekeeper plan is "to learn to distinguish worker brood from drone brood" then go for it. Find what you're looking for, take photos if you want, but once you've accomplished your goal, get out. Is that so hard to understand?
---
5
Assuming where the queen won't be: This is an extension of Murphy's law. If you assume you know where the queen won't be, you will be wrong. I can tell you from personal experience that I have assumed the queen wouldn't be in burr comb before I scraped it away. Wrong. I assumed the queen wouldn't be in the empty super I threw in the grass. Wrong. I assumed the queen wouldn't be on the outside of the end frame. Wrong. I assumed the queen wouldn't be on the inside of the telescoping cover. Wrong. And most impressively, I assumed the queen wouldn't be strolling across my bee-suited stomach. Wrong.
Please, please do not ever assume you know where the queen won't be.
---
6
Following advice that doesn't come with a reason: If a friend or mentor tells you to do something and they can't give you a reason, don't do it. Why anyone would do something to a beehive without a reason is beyond comprehension. Now, maybe it turns out to be perfectly good advice, but if there is no reason behind it, how will you learn anything? How will you know why you are doing it or if you should ever do it again? Or when? "Why?" should always be your first question.
Remember, too, that not all mentors are created equal. Some are a wealth of knowledge, some not so much. If your mentor tells you he does it that way because his father did it that way, you need a new mentor.
---
7
Cutting all queen cells: Nothing perplexes me more than the idea that if you see a queen cell anywhere, anytime, any season, you should dispatch it with vigor and malice aforethought. Why?
Queen cells are not virulent, they don't cause death and destruction, they are not dangerous, dirty, lethal, poisonous, pathogenic or vulgar. And where are all the right-to-lifers hiding during this discussion?
How many times have I heard a new beekeeper say he destroyed all the queen cells, but can't understand why his colony failed to raise a new queen? Really? Or "I killed all the queen cells then realized the hive already swarmed."
This goes back to ignoring the basics and following advice without a reason. There are times to cut queen cells and times to cherish them. The beekeeper's job is to know the difference.
---
8
Failing to recognize a nectar dearth: If you fail to recognize a nectar dearth, bad things can happen. Your colony may starve. Your colony may be robbed by bees from your own apiary or one miles away. Your hive may be invaded by wasps. Your bees may decide to up and leave.
These outcomes can be avoided by good management. You can protect your surplus honey by removing it from the hive; you can protect your bees by reducing their entrances or closing extra entrances, you can feed your bees, you can trap and kill wasps. The list of options goes on and on, but if you fail to recognize the dearth in the first place, you can lose your honey, your colony, or both in a matter of days.
---
9
Harvesting honey too soon: Of all the beekeeping crimes, this is probably the most common and it comes from beekeeper impatience. You've gone your whole life without homegrown honey, but now you need it immediately.
Remember, depending on how you started your hive (full hive, nuc, package) you may or may not get a harvestable crop the first year. Don't rush it. If you do things properly and learn as much as you can, you will soon be drowning in honey. If you take honey too soon, your bees may starve and you will be starting over again.
In the meantime, I advise people who absolutely cannot wait to taste their own honey to go ahead and carve a small chunk from one of the frames. You don't need to harvest gallons in order to have a taste. If you cut a few square inches from a frame, you can have that long awaited treat without compromising the health of the colony. Besides, nothing compares to a spoonful of honey still warm from the heat of the hive. Taste it and wait.
---
10
Attempting too much too soon: Mastering the art of beekeeping is a process. Don't try to go treatment free, raise queens, try out six kinds of hives, sell nucs, harvest pollen, extract honey, capture propolis, and expand to fifty colonies all in your first year. There will be time enough to do those things and more, but take it slowly. There is an incredible amount to learn and you will never know it all. If you learn how to do one thing well before you add another, all of it will come out better in the end.
Rusty
Honey Bee Suite
 
We made our goal of 500 license tags, and more! Thank you very much to all those who ordered one, or two or three, and to all the others who helped, encouraged and supported us along the way!

The Watauga County Beekeeping Association along with the Bee Aware science team have created a "Save The Honey Bee" specialty NC License plate!  Help us spread awareness about the Honey Bee's plight by ordering a plate for your NC vehicle!  The cost is only $15.  Funds generated will go to support Honey bee research at NC state and Grandfather Mountain's Honey Bee Habitat. Please re-post and help us spread the word! ?  Follow the instructions below and send in the completed form and $15.  
We need 500 applicants in the next few weeks.

  If you want this honey bee license plate to happen, we need you to…
2.COMPLETE: Fill it out COMPLETELY with the required items (listed below)
3. PAY: Make out the check to WCBA (Watauga County Beekeepers Association) The DMV requires one check for initial order. Mail to WCBA c/o Lyn Soeder, PO Box 93, Todd, NC 28684
4. SUBMIT! Send check and application to the address on the form. Each application must include the following items: • Vehicle must be currently registered & titled in North Carolina • Current NC Plate Number • Current Driver License Number • Year, Model, Make/Body Style of Vehicle the plate will be ordered for • Vehicle Identification Number • Signature • Insurance Carrier Name • Insurance Policy Number
Where do the funds go? For the $15 plate (4 randomly generated numbers/letters) : $5 to Honey Bee Habitat at Grandfather Mountain and also to North Carolina State University for honey bee research. Remaining $10 to the DMV Special Plate Fund. For the $45 plate (customer chooses 4 numbers/letters) : $5 to Honey Bee Habitat at Grandfather Mountain and also to North Carolina State University for honey bee research.Remaining $10 to the DMV Special Plate Fund; $15 to the Clean Water Management Act Trust Fund; $5 to the Recreation Park Fund; and $10 to the Highway Beautification Fund. If you would like to learn more about the Bee Aware Team or their grant project on Grandfather Mountain check out their FB page: https://www.facebook.com/bee.aware.31?fref=ts and their very own website: 

beeawarenc.org